With the worst of COVID behind us, in-person events are coming back in full swing. To help you save time, we're introducing TheShareWay's biggest change ever – including a 10x faster site, a better way to search, and powerful new donor filters.
Faster than ever before
We entirely rebuilt our website to help you save time and find donors on the go. The new site is 10x faster and works better on slow internet connections. Whether you're on slow wifi at a cafe or trying to get a few donation applications in between errands on your phone, TheShareWay will load instantly at your fingertips.
A better way to search
Introducing an all-new design, built around finding the perfect donors for your events and discovering new donors you wouldn't have known to search for.
Product is at the heart of search
With one click, you can find hundreds of companies that donate across six categories:
Search, save, and apply from anywhere
Many of you are securing in-kind donations outside of your day job. You are cataloging donors on the weekends, submitting applications during free time at work, and checking emails while picking up your kids at school. Our all-new design enables you to search donors, save donors to an event, and apply to donors all with a few clicks. You can do this during breaks at work, on your phone in between errands, or on your tablet while watching TV.
Select Event
Search Product
Save Donors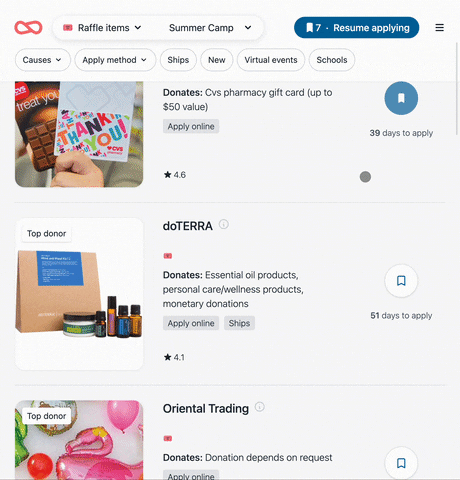 Apply to Donors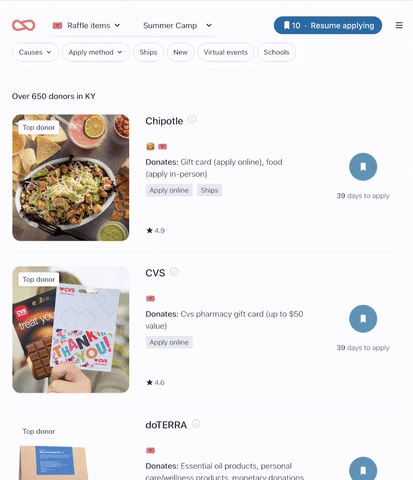 Introducing "Top Donors"
You can now save time and get more donations by applying to "Top Donors". Top Donors are companies that have donated at least five times to TheShareWay members. Between this and user reviews, you'll have more insight than ever before into whom you should apply to.
New powerful filters
No more wasting time contacting the wrong donors. You can further filter down your donor list with two new powerful filters: Virtual Events and School.
Virtual Events: You can now filter for lightweight products that are easy to mail to event attendees. This is especially helpful if you're organizing a virtual event with raffle items that you need to mail to attendees.
Schools: Some donors explicitly state that they do not donate to schools. This is especially the case for alcohol donors. If you're a school club or PTA, you can now click on this to filter out donors that do not donate to schools.
We hope you are as excited about these updates as we are 😀. We always love hearing from you. Whether it's a feature request, feedback on the new site, or a plain old hello, shoot us a note at team@theshareway.com.
With much excitement, Hannah, Nathan, Taylor and Cynthia